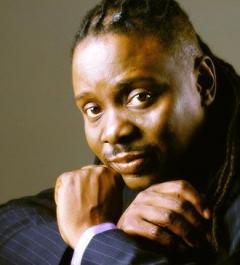 Philip Bailey
Philip Irvin Bailey (born May 8, 1951) is an American R&B, soul, gospel and funk singer, songwriter, percussionist and actor, best known as one of the longtime members of Earth Wind & Fire. He has 10+ solo albums to his credit. The albums listed here are the ones which are decidedly Christian in nature.
Bailey was born in Denver, Colorado. He attended East High School in Denver. He also was in a local R&B band called Friends & Love. Some of Bailey's early influences included jazz musicians such as Miles Davis, John Coltrane and Max Roach, the Motown sound, in particular the music of Stevie Wonder and he was also was largely influenced by female singers such as Sarah Vaughn and Dionne Warwick.
Earth, Wind and Fire was in Chicago in 1975 when Bailey and several other group members were invited to a local church. They were listening to the Scriptures when Bailey suddenly started to cry. "It wasn't an emotional experience," he recalled. "It was something that touched me, and I knew that the Lord, Jesus Christ, was real. I knew that I had a legitimate experience that night." A short time later, Earth, Wind & Fire was back on tour and ran into Leon Patillo on a flight to Europe. Bailey and two of the other group members were sitting together on the plane reading the Bible when Patillo came up and asked if they were Christians. Bailey recalled, "We kind of nodded and said, 'We guess so,' and Leon said, 'Well, praise the Lord! I'm a Christian too.' So we told him that we really didn't know anything about the Bible – that we had just gotten them and really didn't understand it. So he acquainted us with the Book of John and for the next six weeks that we were in Europe, Leon Patillo taught us Bible studies every night. That's when I fell in love with the Word of God."
In 1979, Bailey collaborated with Andrae Crouch on his album I'll Be Thinking of You, and in 1981 he and Maurice White collaborated with The Hawkins Family on their live album, The Hawkins Family Live. In 1980, Bailey joined with friends, Deniece Williams, Billy Davis and Marilyn McCoo to present a gospel show at a popular Los Angeles club named The Roxy. The show was called "Jesus At the Roxy". Williams later reported that "God did something miraculous. Over three hundred people were saved." After that, both Bailey and Williams decided to pursue careers in Christian music.
In 1983 Bailey and Williams recorded "They Say" an atmospheric, slow praise song that builds towards the end with rousing words of praise with just the two voices of Williams and Bailey. The song was written by songwriters Skip Scarborough and Terri McFaddin and was popular on both Urban and Gospel Black radio. Williams later recorded the song with Christian artist Sandi Patti and won a Grammy for it.
In 1985 Phillip released his first gospel album The Wonders of His Love on Myrrh Records which reached number 13 and 17 on the Top Contemporary Christian and Top Gospel Albums charts respectively and it featured percussionist Paulinho Da Costa and pianist and keyboard player George Duke.
His second gospel album Triumph was released in 1986 and the album won Bailey a Grammy for Best Gospel Performance, Male and reached number 18 on the Top Contemporary Christian charts. In 1989 he released his third gospel album Family Affair on which Sheldon Reynolds and Kirk Whalum appeared. He played percussion and provided vocals on the King Baptist Church Mass Choir's album Holding on to Jesus' Hand released in 1990.
Philip Bailey. (2011, June 3). In Wikipedia, The Free Encyclopedia. Retrieved 15:14, June 18, 2011, from http://en.wikipedia.org/w/index.php?title=Philip_Bailey&oldid=432407344
Benjamin, S. S. (n.d.). Philip Bailey - Earth,Wind & Fire. Retrieved June 18, 2011, from Today's Christian Music website: http://www.todayschristianmusic.com/artists/earth-wind-fire/features/philip-bailey/
Websites:
External links are provided for reference purposes. Christian Music Archive is not responsible for the content of external internet sites.