No albums list this artist in credits. You are able to edit albums and add credit info if you have created an account.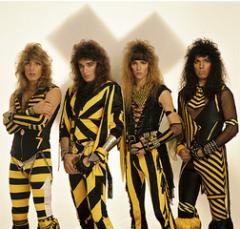 Stryper
Stryper remains hard rock's best kept secret. However, that secret has been hidden in plain sight for far too long. Sure they're Christian, but they're also decidedly metal. That's the first thing that should come to mind when you think of the black and yellow stripes as well as immortal hits such as "To Hell With The Devil," "Calling On You," "Free," "Honestly" and "Always There For You."
The iconic quartet—Michael Sweet [vocals, guitar], Robert Sweet [drums], Oz Fox [guitar], and Tim Gaines [bass]—built a formidable catalog since first forming in 1983. They've sold over 10 million albums worldwide, garnered GRAMMY Award nominations, scored DOVE Awards, sold out arenas everywhere, and inspired one of the most diehard fan bases in history. The band's signature style of overpowering melodies, harmony solos and thunderous rhythms is certainly its trademark, but it hits harder than ever on 2013's No More Hell To Pay.
The secret is out…
The members of Stryper initially bonded over their faith in God and their devotion to music in 1983. Originally named Roxx Regime, they signed to Enigma, and the label urged a name change. Nodding to a Bible scripture Isaiah 53:5, "By his stripes we are healed," they adopted what would become their moniker as a reminder of Christ's sacrifice.
Facing a close-minded musical climate not ready for "God in metal," Stryper did the most rock 'n' roll thing possible and completely went against the grain. It worked too.
"We were really defying the entire music industry," says Michael. "We had heard it all at that point, but we persevered and rose to the top. We progressed as a band in our abilities and in our faith."
Their spirit yielded one of the most successful rock albums in history, 1986's multi-platinum, GRAMMY-nominated To Hell With The Devil. Meanwhile, they made history by becoming the first band ever to simultaneously land two songs—"Free" and "Honestly"—in MTV's Top 10. However, in 1992, the group engaged in an extended hiatus. Michael would go on to pursue a very successful solo career with multiple #1 singles and a successful 4+ year stint co-fronting iconic rock band BOSTON (including their massive 2008 headlining tour), but Stryper always remained. 2003 saw them reunite for the first time with the original lineup. They released Reborn (2005), Murder By Pride (2009), The Covering (2011) and Second Coming (2013). Reborn and Murder By Pride were setting the stage for what was to come, while The Covering featured music that inspired the band and Second Coming revisited early material with fresh eyes and ears. It was time for something new though.
In April of 2013, they entered the studio to record their first original, full-length album, with all original members, since 1991's Against The Law, and the process proved natural (including Michael's production).
"There's something unique that happens between the four of us," Michael says. "Everyone brings something to the table. No More Hell To Pay is the album that takes us back home. We give fans everything they grew up on in regards to Stryper—and then some. There are guitar solos, screams and big melodies. It's everything we're known for. We found our way. Sometimes, you don't need to reinvent the wheel and we didn't try to with this one. Do what you do best. We came to that understanding and we went back to our roots - where it all began and we loved every minute of it."
You can feel that fire on the likes of "Sympathy," Kicking off with a bombastic beat, Michael and Oz's guitars entwine seamlessly. Already, Megadeth frontman Dave Mustaine called it his "favorite" from the set, and it holds special significance for Michael as well.
"It's straightforward musically," he says. "There's no smoke and mirrors. It's in-your-face and real. It's got a strong message too. Can we show and give each other a little more sympathy? If we step back and offer more grace, the world would be a better place."
Meanwhile, continuing a long tradition of covers that began with Earth Wind & Fire's "Shining Star," Stryper's rendition of the Doobie Brothers' classic "Jesus Is Just Alright" possesses an anthemic, arena-ready flare.
"It says it all," laughs Michael. "We've talked about doing this song for years, and it's perfect musically and lyrically for us. We made it a roller coaster in terms of the arrangement."
That roller coaster ramps up on the title track as well as "Legacy," which concerns something that's been on the singer's mind for a while.
"I often ask myself, 'What is my legacy?,'" he admits. "What am I going to leave behind? It's not about material things. How many people did you touch? Who did you inspire? Who did you encourage? That's your legacy. I hope and pray people remember us for staying true to our faith, defending it and not backing down. Hopefully, many lives were touched along the way."
It's clear that time has only strengthened Stryper's impact. As soon as No More Hell to Pay dropped, it soared to #1 on the iTunes Rock Albums Chart and garnered universal applause from mainstream and Christian press alike. However, there's more on the horizon yet for this legendary band.
"I'd love for newcomers to be surprised by No More Hell to Pay," concludes Michael. "For all of the longtime fans, I want them to know we listened to them. We're still Stryper. We still wave the flag of Salvation, Through Redemption, Yielding Peace, Encouragement and Righteousness. It's a miracle that still we get to do this."
This is their legacy.
Florino, R. (2013, November). Stryper The Band. Retrieved October 10, 2014, from Stryper website: http://www.stryper.com/Band/band.html
Websites:
External links are provided for reference purposes. Christian Music Archive is not responsible for the content of external internet sites.