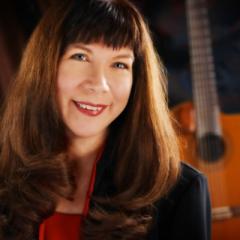 Nancy Honeytree
Nancy Henigbaum ("Honeytree" being a translation of her family's German name) was born into a family of professional classical musicians. As a teen Nancy Honeytree was drawn toward the hippie kids at her school, eventually drifting into the drug culture. In 1970 she met some Jesus People at her sister's art school, and became one herself. After graduating, she worked at a youth ministry in Ft. Wayne, Indiana called Adams Apple, a part of the Jesus movement, and it was during these years that she began to write songs about her newfound faith, recording her self-titled first album in 1973.
Billed simply as "Honeytree" most of her career, the singer's folk rock-soprano style was influenced by mainstream artists such as Carole King and Judy Collins, but her lyrics were largely dealing with one's personal relationship with Jesus Christ. Still, she was somewhat unusual in that some of the songs on her albums were not just dealing with Jesus, but with friends and relationships, the loss of a friend, family memories and, increasingly, the solitary life of an unmarried Christian adult woman. Her songs were intricate and at times, playful. "Hummer, Bummer, Bashmobile" recalled the trials and joys of her first car, using her blue Valiant as a metaphor for friendship, or, some said, Christ. Some of her fans fondly recall the pivotal line, "Sometimes the friends who give the strongest love/are the ones other people don't think much of... but that's the kind of love you need to get you by."
She continued recording throughout the 1970s and toured as a solo artist and with some of the best-known names of the Jesus Movement, such as Phil Keaggy, Mike Johnson, and Mike Warnke. Her second album, Evergreen, is often considered among her best. As her career progressed, Honeytree's style shifted to a classical/bluegrass mix and she moved to the southern United States, recording in Nashville.
On October 30, 1983, Honeytree was formally ordained by her church. During the 1980s she developed a ministry to single adults, a focus she maintains to this day.
In June 1990, Honeytree married John Richard Miller, also an ordained minister. In 1995 the couple gave birth to their first child; however, he died less than three hours after birth. After the loss, a song entitled "Up To Something Good" became a song of her faith. Three months later, the Millers were able to adopt another child, named William.
In 1990s Honeytree recorded several Spanish-language albums and took her show on the road to Spanish-speaking countries. In recognition of the fact that she was one of the few women pioneering the then-new field of contemporary Christian music, she is often affectionately referred to as the "First Lady of Jesus Music."
Wikipedia contributors. Nancy Honeytree. Wikipedia, The Free Encyclopedia. January 26, 2011, 15:56 UTC. Available at: http://en.wikipedia.org/w/index.php?title=Nancy_Honeytree&oldid=410184828. Accessed February 10, 2011.
Websites:
External links are provided for reference purposes. Christian Music Archive is not responsible for the content of external internet sites.