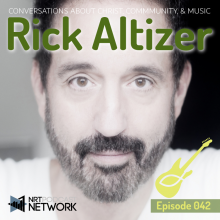 As I've been working on this podcast, I've found a number of excellent podcasts that I really enjoy. One of those is hosted by Rick Altizer a movie director who has produced movies for Chonda Pierce and Russ Taff. Rick was also a recording artist back in the late 90s. So it was great fun to sit down with Rick and chat about his transition from musician to movie producer, and I think you are really going to enjoy this conversation.
Rick Altizer: Website and Facebook.
And of course on our page: Christian Music Archive.
Christian Music Archive Links: Website, Facebook, Instagram, Twitter, and YouTube.
The podcast and our website are made possible through the generous support of listeners like you. Visit Patreon to learn how you can support the work we do.
**** Please be sure to check out Mercy, inc. and see how you can support them today! ****