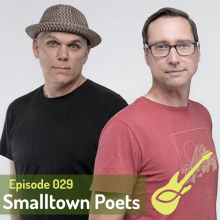 Smalltown Poets formed in 1996 in Atlanta, GA, and have released eight albums and a couple of Christmas projects. Their first major-label album earned a Grammy nomination. But as you hear them share their story, it isn't about awards or album sales. They are seeking to follow God in their music careers, but also in their lives. But why am I telling you about this? Let's let them share their story in their own words.
Smalltown Poets: Website, Facebook, Instagram, and Twitter.
And of course on our page: Christian Music Archive.
Christian Music Archive Links: Website, Facebook, Instagram, Twitter, and YouTube.
The podcast and our website are made possible through the generous support of listeners like you. Visit Patreon to learn how you can support the work we do.