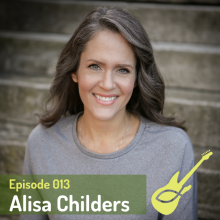 In this episode, I'm talking with Alisa Childers. Alisa was part of the pop trio ZOEgirl in the early 2000s. Fans of early Jesus music will appreciate that Alisa is the daughter of Chuck Girard, who was part of the group Love Song as well as having a substantial solo ministry. Alisa experienced a period of profound doubt about her faith and spent a lot of time searching for answers to her questions. Through that process, she has become a popular speaker, blogger, and podcast host. She has just released a book chronicling her search for truth and an understanding of what her Christian faith means to her. 1 Peter 3:15 encourages us to "be ready to give an answer to anyone who asks you to give the reason for the hope that you have." My conversation with Alisa has challenged me to be better prepared to share about my faith and why I believe what I believe. Maybe this conversation will do the same for you.
In this episode we refer to Alisa's new book which you can get by clicking here.
Connect with Alisa Childers: Website, Facebook, Instagram, Twitter.
And of course on our page: Christian Music Archive.
Christian Music Archive Links: Website, Patreon, Facebook, Instagram, Twitter