November 20, 2014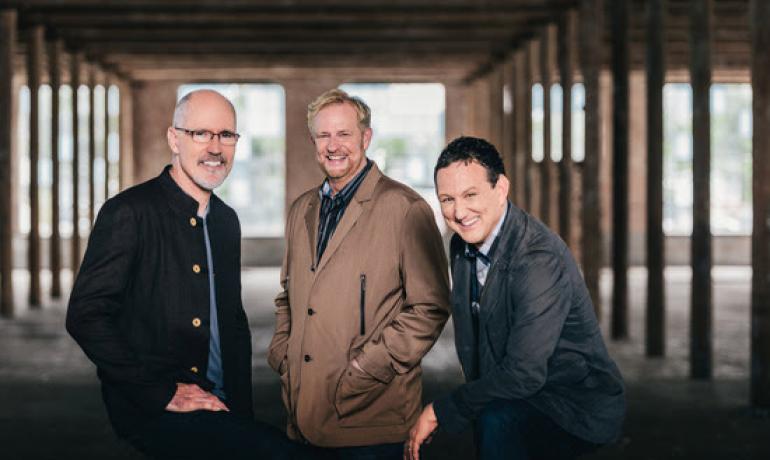 Nashville, TN ---- It was a whirlwind of street week activity for Phillips, Craig and Dean in support of their new album, Above It All. The Dove award-winning trio taped an appearance on TBN's Praise The Lord in Nashville, TN that received a standing ovation from the audience, followed by two tapings for Daystar Television in Dallas, TX. One taping is a full hour of Phillips, Craig and Dean performing songs from Above It All, with a Christmas performance and interview for the second one that will air next month. That evening, Phillips, Craig and Dean headed to KLTY for a free concert and a fan meet & greet, before traveling to WBFJ-FM in Winston-Salem, NC where they performed another energetic station concert.
On the heels of the strong start for their 15th project, Phillips, Craig and Dean reached another milestone in their career with their 24th No. 1 single. "Jesus, Only Jesus" reached the top of the chart this week on Billboard's Soft AC Chart with its powerful lyrics, Who can command the highest praise?/Who has the name above all names?/You stand alone, I stand amazed/Jesus, only Jesus. The lyric video for the song is available here, http://youtu.be/boGXE4k3qpI
Randy Phillips explains why he thinks the single is resonating with music fans. "People's lives are complicated on so many levels. There are so many challenges. If it was in my own human power to help them I couldn't do it, but the great news is this: we can point them to Jesus. Through the help of the Holy Spirit, He can breathe hope into their situation. Our hope is not in our strength, but it's 'Jesus, only Jesus.'"
Phillips, Craig and Dean are gearing up for their Christmas tour that will launch December 10th in North Carolina and conclude in St. Louis, MO on the 15th.