March 07, 2012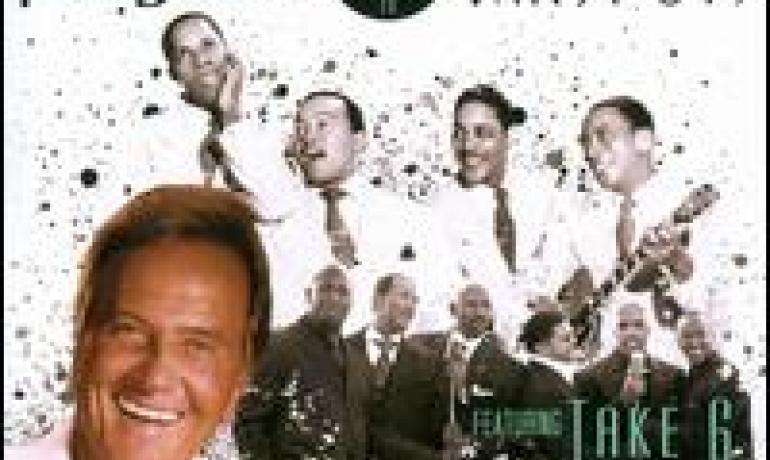 Los Angeles, CA — This year, entertainment legend Pat Boone will celebrate over 50 years of music. Having sold near 50 million records, 38 Top 40 radio hits, multiple Gold & Platinum RIAA certified records and was named by Billboard as the No. 10 artist for Most Top Chart Hits from 1955-1996. Boone will take 2012 to salute famed mid-century vocal group the Ink Spots. In collaboration with the award-winning a capella group Take 6, on May 1st, The Gold Label will present Pat Boone Sings a Tribute to The Ink Spots, Featuring Take 6.
Inspired by his daughter Debby when she re-introduced him to the sound of the Ink Spots, Boone immediately knew he had to do a tribute album. He thought initially of how great it would be to sing with the original group, but as Boone puts it, "the originals had all left the building." With a musically compelling move, the music icon partnered up with premiere record producer, arranger, and film scorer, David Siebel and his friends, a capella sensation Take 6 to create this tribute album.
"Growing up in Nashville, I was a longtime fan of the Ink Spots, and even sang many of their hits on local radio," says Boone. "But my respect for them grew through the years as I learned how tough it is to get your foot in the door musically. These guys crossed over into pop and stayed popular for decades."
Pat Boone Sings a Tribute to the Ink Spots, Featuring Take 6 features numerous Ink Spots signature hits including "You Always Hurt (The One You Love)," "Christopher Columbus," "Cow-Cow Boogie," "Do I Worry," "Java Jive," and ten other memorable classics.
"We're very proud of what came together in the studio," says Boone. "I think the Ink Spots would be proud of it too!"
Boone has five decades of recording history behind him and a busy future ahead. Boone runs his own record company, The Gold Label, designed for legendary artists of a certain age and certifiable talent. So far Glen Campbell, Jack Jones, Roger Williams, Patti Page, Cleo Laine, Sha Na Na and others including Boone himself, have lived up to the Founder's Maxim. More than 30 Gold Record albums have been released to date. Boone has involved himself in a couple of personal projects: "For My Country," a musical acknowledgment to the National Guard that Boone wrote himself, and regards as a follow-up to his Pledge of Allegiance pitch, "Under God," recorded a couple of years ago, which became Boone's 61st hit record.
Currently, Boone can be heard on two nationally syndicated radio shows, "The Music of Your Life" and "The Pat Boone Show," which features contemporary gospel music. His personally written columns appear weekly on WorldNetDaily.com and NewsMax.com, fearlessly embracing politics, religion, and timely causes that catch his attention.