April 23, 2014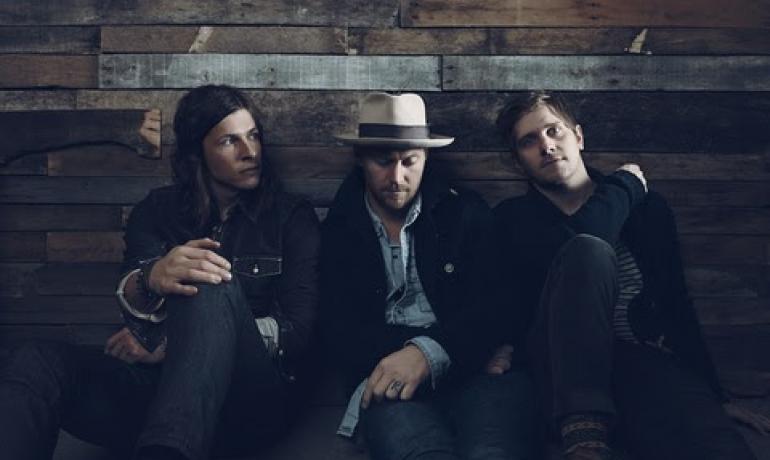 Nashville, Tenn.  - 
NEEDTOBREATHE
 and Atlantic/Word Records are thrilled to announce that the band's new album 
Rivers In the Wasteland
 has debuted at No. 3 on the Billboard 200 and No. 1 on the Christian Albums Chart. Released last week, 
Rivers
 went straight to No. 1 on the iTunes® chart and stayed in the Top 10 all week.
The band performed new single "The Heart" on 
The Ellen DeGeneres Show 
last Friday, a song the 
UK's Clash Magazine 
spotlights as
 "s
trident, anthemic songwriting" that "matches Southern rock to gilded Americana with the trio's voices gathered in rapture." Watch the performance here: 
http://www.ellentv.com/videos/0-rjytdfgl
NEEDTOBREATHE will return to The Late Show with David Letterman tonight for a performance of "The Heart," joined by the legendary Paul Shaffer.
The band's single "Difference Maker" continues to the climb the charts, hitting the Top 10 this week at CHR. The band's next single "Multiplied" went for adds last week and was picked up by 29 Christian AC stations, making it the most added single at Christian AC. 
Rivers In the Wasteland impressed fans and critics alike last week following its release. NewReleaseTuesday.com said, "You'll be hooked right from the opening notes..." while JesusFreakHideout.com praised a "welcome return for the South Carolina boys, and already one of the best releases of 2014."
The band's North American headlining that kicks off May 1 has been extended for another two months. The additional leg sees the band performing in Austin, New York, Philadelphia and Boston. See the full list of dates below.
On May 3, NEEDTOBREATHE will perform on CBS This Morning Saturday's "SaturdaySessions."
Tour Dates:
5/1/14 - Gillioz Theatre - Springfield, MO *
5/2/14 - Brady Theater - Tulsa, OK *
5/3-4/14 - Suburbia Music Festival - Plano, TX
5/5/14 - Marquee Theatre - Phoenix, AZ *
5/6/14 - The Wiltern - Los Angeles, CA *
5/7/14 - The Fillmore - San Francisco, CA *
5/9/14 - The Neptune - Seattle, WA *
5/10/14 - The Neptune - Seattle, WA *
5/11/14 - Vogue Theatre - Vancouver, BC *
5/14/14 - The Fillmore - Denver, CO *
5/15/14 - Uptown Theater - Kansas City, MO *
5/16-18/14 - Hangout Festival - Gulf Shores, AL *
5/31/14 - The Tabernacle - Atlanta, GA *
6/1/14 - The Tabernacle - Atlanta, GA *
6/3/14 - Stage AE - Pittsburgh, PA *
6/5/14 - House of Blues - Cleveland, OH *
6/6/14 - Murat Theatre - Indianapolis, IN *
6/8/14 - Pabst Theater - Milwaukee, WI *
6/10/14 - Simon Estes - Des Moines, IA *
6/12/14 - Skyway Theatre - Minneapolis, MN *
6/13/14 - The Pageant - St. Louis, MO *
6/14/14 - House of Blues - Chicago, IL *
6/15/14 - House of Blues - Chicago, IL *
6/17/14 - Town Ballroom - Buffalo, NY *
6/19/14 - Danforth Theatre - Toronto, ON
6/20/14 - The Fillmore - Detroit, MI *
6/21/14 - Meijer Gardens - Grand Rapids, MI *
8/16/14 - DownPour Festival - Great Falls, MT **
8/20/14 - Tennessee Theatre - Knoxville, TN **
8/21/14 - Tennessee Theatre - Knoxville, TN **
8/22/14 - The Uptown Amphitheatre - Charlotte, NC **
8/24/14 - Durham Performing Arts Center - Durham, NC **
9/4/14 - Austin Music Hall - Austin, TX **
9/5/14 - Bayou Music Hall - Houston, TX **
9/8/14 - River Center Baton Rouge - Baton Rouge, LA **
9/9/14 - Orpheum Theatre - Memphis, TN **
9/11/14 - Alabama Theatre - Birmingham, AL **
9/13/14 - The Woods at Fontanel - Nashville, TN **
9/16/14 - The NorVa - Norfolk, VA **
9/18/14 - North Charleston PAC - Charleston, SC **
9/19/14 - Littlejohn Coliseum - Clemson, SC **
9/22/14 - The Fillmore - Silver Spring, MD **
9/24/14 - Theatre of the Living Arts - Philadelphia, PA **
9/25/14 - Theatre of the Living Arts - Philadelphia, PA **   
9/26/14 - House of Blues - Boston, MA **
9/27/14 - Best Buy Theater - New York, NY **
* With Foy Vance 
** With The Oh Hellos