March 20, 2012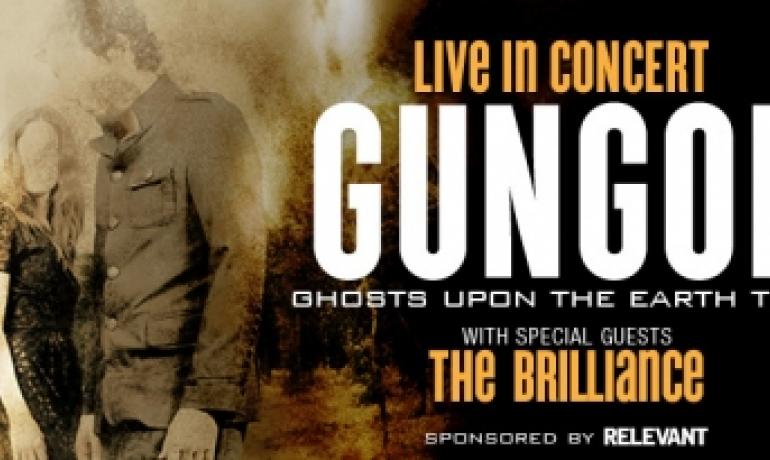 Shows Being Recorded For Live CD/DVD Release This Coming Fall
Nashville, Tenn., March 20, 2012… With numerous honors and stellar reviews for their latest album, Ghosts Upon the Earth, it is no surprise that three-time GRAMMY ® nominated group Gungor is selling out shows in major cities, including Dallas, Houston and Santa Ana. With stops in New York City, Los Angeles, Chicago and more, the "Ghosts Upon the Earth Tour" launched March 1 in Austin, Tex., and features special guest The Brilliance.
Well-known for taking a fresh, distinctive approach to worship music, Gungor's album Ghosts Upon the Earth sold over 9,500 units during the first week of its release, earning Gungor the No. 3 spot on Christian Soundscan and No. 43 on the Billboard Top 200 while also debuting at No. 1 on the Christian iTunes Charts. iTunes also heralded Gungor as the iTunes Rewind 2011 pick for "Christian & Gospel Breakout Artist of the Year" ( www.iTunes.com/iTunesRewind). Relevant Magazine, who is also sponsoring the "Ghosts Upon the Earth Tour," named the album "The Best Musical Surprise of 2011" ( http://www.relevantmagazine.com/culture/music/features/27497-the-best-mu...).
The group will also be recording performances in select cities throughout the tour and will release a live CD/DVD collection this coming fall.
"Ghosts Upon the Earth Tour" Dates
*All dates subject to change, please stay tuned to www.gungormusic.com for the most updated information.
3/20/2012 Kearney Evangelical Free Church Kearney, Nebraska
3/21/2012 The Orpheum Theater Wichita, Kansas
3/22/2012 James River Assembly Ozark, Missouri
3/23/2012 Hoyt Sherman Place Des Moines, Iowa
3/24/2012 Northwestern College Maranatha Hall Saint Paul, Minnesota
3/25/2012 Kingsway Christian Avon, Indiana
3/27/2012 Merillat Centre for the Arts Huntington, Indiana
3/28/2012 First Church of Christ Burlington, Kentucky
3/30/2012 Edman Chapel at Wheaton College Wheaton, Illinois
3/31/2012 Calvin College- Covenant Fine Arts Center Grand Rapids, Michigan
4/12/2012 The Auricle Canton, Ohio
4/14/2012 Gramercy Theatre New York, New York
4/15/2012 Jammin Java Vienna, Virginia
4/16/2012 Crosspointe Church Cary, North Carolina
4/17/2012 First United Methodist Church Charlotte Charlotte, North Carolina
4/21/2012 Fellowship Evangelical Free Church Knoxville, Tennessee
4/22/2012 Lee University Cleveland, Tennessee
Source:
The Media Collective. (20-Mar-2012). Multiple GRAMMY Nominee Gungor Sellout Out Major Cities on Headline Tour [Press release].