October 08, 2013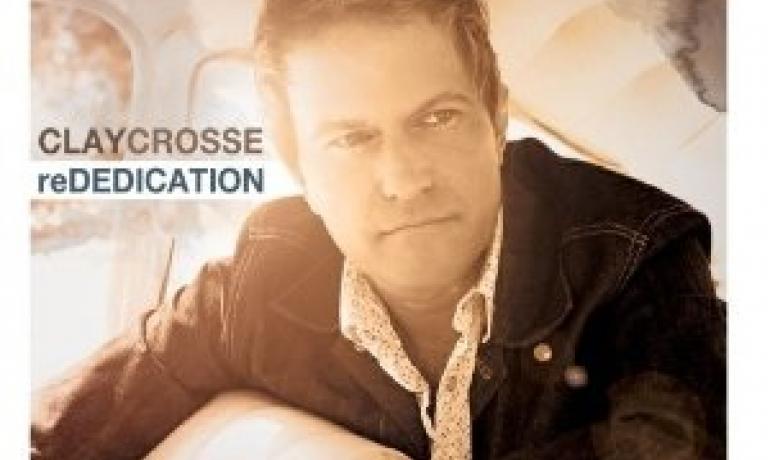 NASHVILLE, Tenn. - Four-time Dove Award-winning singer/songwriter Clay Crosse is celebrating today's retail release of his 10th career album, reDedication, from CCM Forever and Elevate Entertainment.The 10-song project is available at all major Christian retailers.
Crosse, who has scored nine No. 1 radio hits and earned accolades as one of the premier contemporary Christian recordings artists of the 1990s, has been in the midst of a media blitz as he promotes the new project with upcoming appearances at Cornerstone TV's  Real Life in Pittsburgh, Pa., Babbie's Houseand Atlanta  Live in Atlanta, LeSea Broadcasting's The Harvest Show in South Bend, Ind., and more. 
 
"I experienced a personal, formal rededication of my life to Christ in 1998," Crosse says regarding the title of his new CD. "And that decision has been working in me ever since. Every year there is a growing realization that there are still miles to go in my relationship with Christ. That's a great thing. Fifteen years later, that realization still resonates with me in a richer, even more meaningful way than it did when I first rededicated my life to Christ." 
 
"I've been a huge fan of Clay Crosse since he first started his career," says Jeff McLaughlin of A-Sides Radio Promotion, who is promoting the album's singles to Christian radio. "But after listening to his latest album, I can honestly say that this is his best yet. Great songwriting paired with one of my favorite producers, Regie Hamm, topped with Clay's signature voice makes for a great album." 
 
With the release of reDedication, Crosse returns with a project of songs worthy of those that first caused the industry to take note. Two singles from the CD are currently being played at Christian radio: "Working On A Building," featuring Russ Taff and Melinda Doolittle, at AC and Gospel radio formats; and "When I Lift My Hands" at Soft AC and Inspirational radio formats. "When I Lift My Hands" recently hit No. 22 on the Billboard Christian Soft AC chart. 
Crosse kicks off reDedication with "I Rest In You," a jangling, acoustic guitar-driven anthem of adoration. "You're the Father / You're the Healer / Son of God and the Great Redeemer / I can trust in You because I know," Crosse joyously declares. "Every moment, every minute / Oh God, I know You're in it!"  
"I Rest In You" segues effortlessly into the more mellow, laid-back title cut. The stripped down piano ballad is elegantly embellished with understated strings, allowing Crosse's signature vocals to take center stage.
Crosse employs a smoldering, thumping rock 'n' roll beat to undergird "Vessel." While the melody will tempt you to roll down the windows and crank it up loud for the whole world to hear, the lyrics are surprisingly intimate, as Crosse declares his desire to be used as a vessel of God. "Waving A White Flag" is another bouncy, radio-friendly pop number that extols the benefits of surrendering to God's will.
While Crosse has the pop radio genre down solid, he also knows how to pull back when he needs to, allowing the music and lyrics room to swell. Such is the case with the gorgeous, cinematic worship song "Your River's Wide Enough," and Crosse's emotive vocals add just the right touch of pathos to drive the prayerful, piano-driven praise ballad "When I Lift My Hands," straight into his listeners' hearts and souls. 
Crosse proved he knows how to merge his vocals seamlessly with other great singers when his 1999 collaboration with Bob Carlisle and Bebe Winans, "I Will Follow Christ," took home the Dove Award for Inspirational Song of the Year. On reDedication, Crosse shares the microphone with Christian music legend Russ Taff, and American Idol finalist Melinda Doolittle on the groove-based, "Working On A Building."
The classic Hillsong corporate praise anthem, "The Stand," appears custom made for Crosse's passionate vocal delivery, as does the equally anthemic, but more personal praise song, "All Because of You." As Crosse closes the project with the poignant and prayerful, "Good Morning Lord,"  he allows a simple acoustic piano to surround his soulful, evocative vocals.
Finger-on-the-pulse songwriting, pristine instrumentation and spot-on production by long-time industry vet Regie Hamm combine with Clay Crosse's signature vocals to make reDedication one of the finest projects of his career. 
 
"Rededication, as a spiritual event, is something that has strongly impacted not only my own life, but the life of my entire family," Crosse says. "It's my prayer that reDedication, the album, will encourage believers to re-examine their own lives and help lead them into a deeper walk with Christ."