Trace Balin is listed in the credits for the following albums: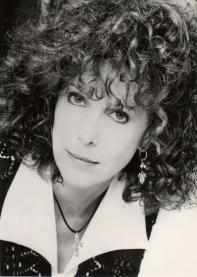 Trace Balin
Change is a huge part of Trace Balin's life. Like the willow tree she sings about in her song "Changes", she has had to adapt and bend in the storms of life or otherwise break. As Trace has persevered through those changes, her music and ministry have spanned nearly 2 decades, impacting people's lives throughout the world. Since her days on Word's Dayspring label, her artistry has continued to ebb and flow, evolve and expand from the concert stage to ministry as a dynamic motivational speaker, writer, author, recording artist, actress and playwright.
Trace grew up in a non-Christian home. The liberal ideas of her father were a major push into music. "My father is a history professor, he's retired right now," says Trace. "My parents are divorced. My father taught me to express myself, to be anything you would like to be, all the way from an astronaut to the president of the United States if you will. Basically, to be self-sustained, self-supportive and independent. Thank you Ronald Reagan!"
When Trace was very young, she got her musical inspiration from the R&B of the Motown sound. By the age of 15, Trace was a professional singer performing in bars, under the protective eyes of her mother. This quickly led to a recording contract with Mercury Records that same year. That was the beginning of a path that led to being signed to CBS and ABC Records, as well as adding her talents to everything from Freddy Fender albums to Coca-Cola commercials.
After moving to Ohio, Trace met her husband-to-be Joel. They toured with a show group with dancers and singers for quite a while. "We toured like that for three years and then we settled in Orlando Florida in 1980."
Their move to Orlando was mainly an economical one. With Disney World located there, Orlando provided lots of opportunities for musicians. It was there Trace had her first encounter with contemporary Christian music, one that would have a profound effect on her.
Seeing Phil Keaggy perform in a local bar was a rare experience for Trace, since she noticed something different about both Phil and the crowd. She was especially touched by the Keith Green classic "Your Love Broke Through" and added it to her own repertoire.
"We didn't even understand the impact of the power of the music that we were listening to," comments Trace. "So we learned a couple of Phil Keaggy songs and went on with our business."
But the message contained in their new songs began to take effect. A transformation started to take place in Joel's life. In 1980 Joel started studying the Bible and was especially touched by the book of Revelation and how it lined up with world events. Comments Trace: "He brought it home to me in this big, long computer printout that he and a friend had , done. I was sceptical."
Joel accepted Jesus Christ. He invited his wife to come along to Hal Lindsey's movie The Late Great Planet Earth. Recounts Trace: "I went to the movie and walked out a believer. We asked the Lord to put us in a place where we could be in an environment that had a family atmosphere, so went to Seaworld and worked there for five years. It was a wonderful time, it's a tourist park. While we were playing for families the Lord impressed on Joel's heart that we should have a music ministry."
However, after this time, Trace was about to give up music. Joel and Trace had adopted two children from Korea and she thought of becoming a mother full time. After battling with cancer, Trace developed pneumonia that went undiagnosed for seven months. Because of that Trace got the rasp in her voice that made it so significant and eventually led her to a recording contract with Word Records. 
Trace Balin recorded three albums for Word, Champions, Here And Now and Out Of The Blue. Those were records that gave her a place on the CCM market, but did not give her the extra that would give her the push to make it to the top of the CCM charts.
Since Trace released her third album for Word, Out Of The Blue, she has become really active in the pro-life movement. "I go around and speak often times and sing to raise funds or money for crisis pregnancy centres here in the United States. It's quite a work, it's very pro-life, but it does require a lot of money. And so I go in and I sing and I do motivational speaking to help people understand this particular ministry and to catch a vision for this ministry." This work bears special significance for Trace, because she is a mother of adopted children. "Understanding that adoption is a viable option to abortion, just as is suggesting that they keep the baby all together. So that's a ministry I'm actively involved in."
Glory Road, Trace's fourth album, came about after a tour in Holland. "I came over to the Netherlands last year and did a tour with Larry Howard, Darrell Mansfield and Glenn Kaiser. I wanted to experience first hand how I would be received. I did step out, I did take liberties to do blues materials or hints of blues on the Out Of The Blue album. That was a pretty brave step here in the United States. Don Francisco had said, 'Well, if you put blues on your album it may well be the kiss of death. Conservative churches kind of frown on it, let's put it that way.' I have always had a desire to sing it. I believe what you're seeing is an evolution in what I have already been doing, a growth process. And just another form of expression of the undeserved gifting the Lord has given me. So, it seems like a natural process for me to enter into this and when I talked to Spark Records, we decided to collaborate and to do this album that I'm very excited about. I've collaborated with my husband Joel and various other writers to bring together a very cohesive album that I'm extremely excited about."
Trace Balin Artist Profile. (n.d.). Retrieved November 29, 2013, from New Release Tuesday website: http://www.newreleasetuesday.com/artistdetail.php?artist_id=763
Vink, J. W. (1995, February 1). Trace Balin: The US singer with a bluesy new album. Retrieved November 29, 2013, from Cross Rhythms website: http://www.crossrhythms.co.uk/articles/music/Trace_Balin_The_US_singer_with_a_bluesy_new_album/40255/p1/