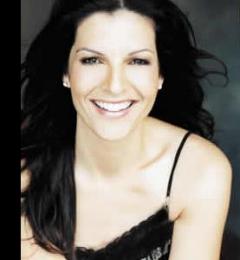 Patty Cabrera
The Southern California-born product of Cuban and Puerto Rican parents, Patty Cabrera has brought a Hispanic edge to American gospel music. Two of her songs were used by the Billy Graham Evangelistic Association for their 1992 Latin American crusade. Two years later, the organization commissioned her to compose a tune, "Take It Away," for their Puerto Rican crusade.
Adventist-raised Cabrera was drawn, as a child, to the gospel music of the Kings Heralds and Heritage Singers. During high school, she sang Christian music at weddings, concerts, and youth events with a series of local bands. Based on the strength of her demo tape, Word Records signed her to a recording contract. Still a student at Pacific Union College when she recorded her self-titled debut album, released in English and Spanish versions in March 1991, she graduated with a bachelor of science degree in public relations. Although she toured nonstop following her graduation, Cabrera's contract was dropped by Word in 1992.
Taking a two-year hiatus from music, she began to take steps toward rebuilding her career. Cabrera's involvement with the Billy Graham Evangelistic Association has provided the much-needed impetus for success. In 1994, she performed "Take It Away," via satellite for a worldwide audience of four to five billion people.
Attending a Gospel Music Association convention in Nashville in March 1996, Cabrera began speaking out about the injustices of modern society, explaining that "teens are struggling with sex, struggling with drugs, and we need to get out there and be at the forefront of dealing with these issues." Although her comments drew criticism from Christian magazines, radio stations, and her record label, Cabrera's willingness to speak out led to her being included in a survey of 50 Most Beautiful People in the World, conducted by People magazine in 1996. The same year, she released her second solo album, Always & Forever, in English and Spanish versions, and was invited to sing the National Anthem at the Republican National Convention in San Diego.
Harris, C. (n.d.). Patty Cabrera: biography. Retrieved October 24, 2011 from http://www.allmusic.com/artist/patty-cabrera-p27894/biography