No albums list this artist in credits. You are able to edit albums and add credit info if you have created an account.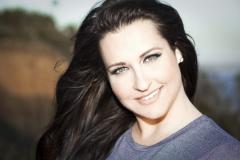 Natasha Owens
Natasha Owens has spent most of her life in Texas and currently lives in the Dallas area, with her husband and two sons. She was raised in a musical family, began singing at four years of age, and was involved with choirs and praise teams while growing up. In May 2010, Owens faith was tested when her 58- year-old father died from a tragic gun accident that instantly killed him. Overcome with grief, she retreated from life and found it difficult to heal. During this time, her pastor from Turning Pointe Church in Allen, TX asked her to become the Music Minister for the congregation. Owens accepted the position and this music ministry began the healing process for her, while laying the foundation for her budding music career. This led to sharing the stages with Michael W. Smith, Jason Crabb, Sanctus Real, and releasing her first album, I Made It Through in 2014. No One But You is Owens second national project and releases August 28th.
Websites:
External links are provided for reference purposes. Christian Music Archive is not responsible for the content of external internet sites.