No albums list this artist in credits. You are able to edit albums and add credit info if you have created an account.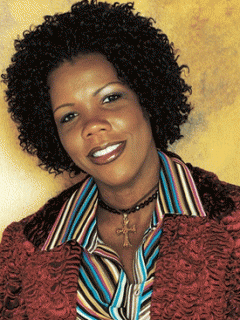 Lynda Randle
Lynda Tait Randle, as Bill Gaither has fondly introduced her for over a decade, was born in the inner city of Washington, D.C. She is the middle child of seven and feels blessed to have had the privilege of being raised in a Christian home. Although her parents, Nathel and Maxine Tait, taught her and her siblings the love of Christ very early on, Lynda still experienced a tumultuous and painful childhood. It would be years later when she really experienced the freedom from bondage that only God could give, even though her dad led her to the Lord at their kitchen table at the young age of 12. Music certainly became a way out of pain and heartache for Lynda and as a result of this God-given gift, many doors of opportunity have opened up for her.
Lynda's distinct alto voice has created opportunities for her to minister across the United States and around the world. She has been a favorite on the Gaither Homecoming Series and Videos. Her two most requested songs are "God On The Mountain" and "I'm Free." In 2005, she won a Dove Award for her album, "A Tribute To Mahalia Jackson."
Her most recent release with co-producer Ben Isaacs, Til The Storm Passes By, includes congregational favorites, popular ballads, a crooning performance of the classic title cut, with a little blues and blue grass in the mix. Lynda enjoyed having her brother, Michael Tait of the Newsboys, sing background vocals on two songs that she wrote.
While many may know Lynda as a singer, songwriter, author, and TV personality, her most cherished roles are that of wife to Michael Randle and mother to her two precious daughters, Patience and Joy. Michael's background growing up on the streets of Kansas City's inner–city and his dramatic conversion experience give him a powerful voice to youth who find themselves in the same desperation he knew. Michael is currently the lead pastor at Mosaic Bible Fellowship, a new church plant in Kansas City, Missouri near the Historic 18th and Vine Jazz District. The Randles enjoy various occasions where they are able to minister together with Michael speaking and Lynda singing.
One remarkable thing about Lynda's ministry is her ability to quickly build rapport with audiences and "draw them out" regardless of the type of group. In fact, her message and music are truly cross–cultural. This is proven over and over through her individual performances, women's conferences, books, and albums.
Lynda is the sister of Michael Tait (dcTalk, Tait and the Newsboys).
Websites:
External links are provided for reference purposes. Christian Music Archive is not responsible for the content of external internet sites.