Love Song is listed in the credits for the following albums: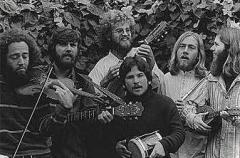 Love Song
Love Song was one of the main Jesus music bands, one of the first Christian rock bands. It was founded in 1970 by Chuck Girard, Tommy Coomes, Jay Truax, and Fred Field. Additionally, the earliest members included David Ingram on keyboards, Ernie Earnshaw on drums and Jack Schaeffer on bass. It was Schaeffer who came up with the group's name. Denny Correll, formerly of Blues Image, also sang with the group early on before they became Christians. Field was replaced by Bob Wall, who played guitar on all three albums. Drummer John Mehler, who had joined the fledgling group in its infancy, then left with Field, rejoined in time to play on Final Touch and Feel the Love. Another latter-day member was Phil Keaggy, who joined to replace departing Wall in 1973 but had already left the group before the recording of Final Touch and Feel the Love.
They were a part of the Jesus Movement of the late 60s and early 70s, coming out of Chuck Smith's Calvary Chapel. Their classic debut album, Love Song (1972), is considered one of the greatest Christian music albums of all time. The group toured heavily in the early 70s, becoming very popular both in the US and abroad. By 1976, the Jesus Movement was being replaced by Christian Contemporary Music (CCM) as the leading style of Christian rock, and it was becoming more business than ministry. Many of the bands that had started the movement began to break up, and after a final "Reunion Tour" in 1976 which resulted in the Feel The Love double live album, Love Song was no more.
Many of the original members continued with solo careers and a few are still performing today. In 1994, the band recorded another reunion album, Welcome Back which included new versions of the songs off the first three albums.
Love Song has released a box-set containing their first three albums plus a DVD of their 1973 concert in San Antonio. All original tapes on all three projects (Love Song, Final Touch, and the live Feel the Love albums) have been re-mastered at Mastering Lab. Recording engineer Bill Schnee assisted Tommy Coomes and Chuck Girard in "the work. The drum solo has been re-included in the live album, which will mark the first time that there has been a full digitally re-mastered version of that album. All 3 original albums and the DVD of the 1973 concert are also available to buy separately on the Love Song store.
Love Song started a reunion tour in 2010 with Calvary Chapel founding Pastor Chuck Smith touring throughout the United States.