No albums list this artist in credits. You are able to edit albums and add credit info if you have created an account.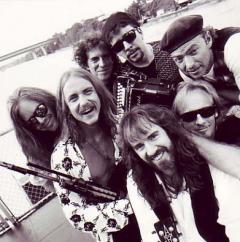 Ceili Rain
Ceili Rain is a celtic music influenced Syracuse, New York based band led by Bob Halligan, Jr, founded in May 1995. As the group's founder Bob Halligan, Jr explains, in Gaelic, the word "Céili" (pronounced kay-lee) means "party", specifically one with live musicians, dancing, and general merriment for an all-ages crowd. "Coeli" is a form of the Latin word for "heaven". Rain is English, meaning downpour. Thus, according to Halligan, Ceili Rain is a "downpour of heavenly partiness."
As a songwriter, Bob Halligan, Jr., has had over 140 songs recorded by well-known rock artists, including Cher, Michael Bolton, Judas Priest, KISS, Kathy Mattea, Bob Carlisle, Rebecca St. James, Jump 5, Maire Brennan and countless others. He has published over 975 songs and his songs have sold more than 30 million units. 
The discography of Ceili Rain continues to grow due to the overwhelming support of a seriously committed underground fan base. Fans of this band have given up everything to drive across the country to follow their favorite fella's and label artists representing a variety of musical styles have even gone on to cover Ceili Rain tunes. The band currently has 7 recorded CD projects many of which have received significant critical acclaim. Ceili Rain has been recognized with numerous Unity Awards, and has 5 music videos that are played on music video channels around the world. 
Ceili Rain has played some of the top venues in the country including Reliant Stadium, The RCA Dome and The Georgia Dome. They have played many key festivals from Kingdom Bound to Creation Fest to World Youth Day. They have been invited to perform at numerous Celtic and community events from the Slainte Festival to the Bethlehem Musikfest. They have played at major conferences including NCYC and Youth Specialties and have even performed for major corporations like Nextel. But hosting Ceili Rain on a more intimate level is always an option too as the band has been invited to perform at weddings, house concerts, benefits, fund raisers, private birthday parties, and other special events. International travels have taken them to several countries including Canada, Belgium, Italy and others. 
Websites:
External links are provided for reference purposes. Christian Music Archive is not responsible for the content of external internet sites.