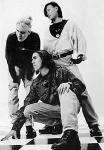 Zero
Zero only made one album. The members were:
Ian Eskelin
Max Hsu
Luke Mazzeri
They had one album Ravenous and had a few remixes on a couple of other albums.
Where are they Now:
Currently Luke Mazzeri works under the name Luke Etyrnal.
Currently Max Hsu is with Superchic[k].
Currently Ian Eskelin has been creating albums under the All Star United brand.