| Year | Artist | Album | Role |
| --- | --- | --- | --- |
| 1986 | Idle Cure | Idle Cure | Producer, Songwriter, Engineer, Keyboards, Background Vocals |
| 1986 | Crumbacher | Escape from the Fallen Planet | Engineer |
| 1987 | Crystal Lewis | Beyond the Charade | Producer, Songwriter, Arrangements, Engineer, Vocals |
| 1987 | Crumbacher | Thunder Beach | Producer, Engineer, Arrangements, Background Vocals |
| 1988 | Bill Baumgart | The Kindling | Producer, Vocals, Background Vocals and Keyboards |
| 1988 | Idle Cure | Tough Love | Producer, Background Vocals |
| 1988 | Jon Gibson | Change of Heart | Producer, Songwriter, Background Vocals |
| 1988 | Mark Farner | Just Another Injustice | Producer, Engineer |
| 1989 | D.O.X. | Through the Fire | Producer, Background Vocals |
| 1989 | Liaison | Liaison | Producer, Keyboards, Background Vocals |
| 1990 | Idle Cure | 2nd Avenue | Producer, Engineer, Background Vocals |
| 1990 | Benny Hester | United We Stand / Divided We Fall | Producer, Arrangements |
| 1990 | Rick Elias | Rick Elias & the Confessions | Engineer |
| 1991 | Crystal Lewis | Simply the Best | Producer, Arranger, Songwriter |
| 1991 | Mark Farner | Some Kind of Wonderful | Producer, Engineer, Background Vocals |
| 1991 | Rick Elias | Ten Stories | Engineer |
| 1991 | Stephen Crumbacher | Take It In | Producer, Engineer, Vocal and Rhythm Arrangements, Background Vocals |
| 1991 | Liaison | Urgency | Producer, Engineer, Rhythm and Vocal Arranger, Songwriter, Keyboards |
| 1991 | Idle Cure | Inside Out | Producer, Engineer |
| 1992 | Mark Farner | Closer to Home | Producer, Engineer, Background Vocals |
| 1992 | 4Him | The Basics of Life | Vocal Arranger |
| 1993 | Chase | In Pursuit | Producer |
| 1993 | Straight Company | So Excited: Acapella | Producer, Engineer, Mixed, Arranger, Songwriter |
| 1993 | 4Him | The Season of Love - Christmas | Vocal Arranger, Programming, Choir Vocals |
| 1993 | Billy Sprague | The Wind & The Wave | Executive Producer |
| 1993 | East to West | East to West | Executive Producer, Background Vocals |
| 1994 | 4Him | The Ride | Executive Producer, Additional Choir |
| 1995 | East to West | North of the Sky | Producer, Arrangements, Engineer, Keyboards, Background Vocals |
| 1996 | Bruce Carroll | Speed Of Light | Executive Producer |
| 1998 | Bruce Carroll | Boomerang | Executive Producer |
| 1999 | The Waiting | Unfazed | Executive Producer, Songwriter, Engineer |
| 2000 | Russ Lee | Words in Time | Executive Producer, Songwriter, Piano, Wurlitzer, Additional Programming, Background Vocals |
| 2000 | Rick Elias | Confessions of a Ragamuffin Man | Engineer |
| 2001 | NewSong | The Christmas Shoes | Producer, Arrangements, Engineer, Mixed, Piano, Keyboards |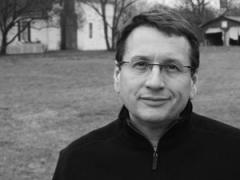 Bill Baumgart
Sacramento, California native Bill Baumgart began his career in the music industry as a studio engineer while attending Long Beach State University in southern California. His early work on various mainstream projects included record labels like MCA, A&M, Motown and RCA. It wasn't long before Baumgart was actively involved in the L.A. music scene.
But in 1981, Baumgart became a Christian while attending Calvary Chapel, in Costa Mesa, California. In the short time that followed, he discovered the growing Christian music genre and found it to be a perfect outlet for his musical gifts. Throughout the 1980s, Baumgart worked with several contemporary Christian artists, producing projects for Crystal Lewis, Mark Farner, Idle Cure, Benny Hester, Liason and Jon Gibson.
By the early 1990s Baumgart moved his family to Nashville, Tennessee, which had become the main hub for the Christian music industry. From 1993 to 2001, Baumgart spent a collective total of eight years as A&R director for Benson Records (Zomba/Music Entertainment Group) and Sparrow Records (EMI CMG). During that time he worked with a wide range of Christian music's top performers including Steven Curtis Chapman, 4HIM, NewSong, Bob Carlisle, Jump5, Al Denson, Dallas Holm, Bruce Carroll, East to West and many more. His creative efforts earned him two Grammy nominations, a regional Emmy Award and numerous Gospel Music Association Dove Award nominations.
In pursuit of new innovative ministry-minded ideas, Baumgart stepped out on his own, leaving his full-time position at Sparrow Records in the beginning of 2000. That same year, Baumgart reconnected with longtime friend and television/video producer Tim Ellis. Having both served in church ministry together in the late '80s, the two rekindled their mission to serve the Church through high-quality media-driven resources. Together, they forged the vision for ORBIT CHURCH, the premier provider of media-driven content for the Church.
Baumgart, President of ORBIT CHURCH, oversees the company's operations in its Nashville headquarters and serves as Executive Producer for its media and music productions. He currently lives in Thompson Station, Tennessee, with his wife, Jane, and their children Christin (20), Kelsey (18), Madeline (12) and Billy (10).
Kidmo - Our Team. (2017). Retrieved March 25, 2017, from KidMo! website: http://www.kidmo.com/KIDMO_Team.html