No albums list this artist in credits. You are able to edit albums and add credit info if you have created an account.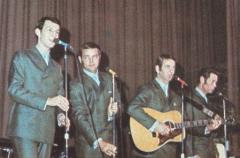 Hopper Brothers and Connie
The Hopper Brothers and Connie are a family ensemble which first began performing together in 1957. A southern gospel group from North Carolina, they started performing as The Hoppers in 1982. They appeared at the inauguration ceremony for Ronald Reagan in 1981 and have won awards for Mixed Vocal Group at the Southern Gospel Music Awards in 1982 and 1983.
Kim Greene of The Greenes joined the group in 1989 after marrying vocalist and former drummer Dean Hopper the year before. Their first major hit at Christian radio was "Here I Am", in 1990; they would score many further hits, including "Milk and Honey," "Mention My Name," "Anchor to the Power of the Cross," "Heavenly Sunrise," "That's Him," and "Yes I Am."
Mike Hopper married Denice in 1996, who became the group's pianist. In 1998, their version of "Shoutin' Time" became their biggest hit, and the group performed with Bill and Gloria Gaither. They won several further Southern Gospel Music Awards in following years. In addition member Connie Hopper won the career Marvin Norcross Award in 1998. They also performed on the album Tribute To Dottie Rambo, which was a nominee for "Special Event Album of the Year" at the Dove Awards of 1999.
The group has appeared on the Gaither Homecoming tour frequently, and Claude and Dean Hopper are members of the board of directors of the North Carolina Gospel Music Hall of Fame. Mike Hopper has appeared on the television program Touched by an Angel.
The Hoppers. (2015, October 27). In Wikipedia, The Free Encyclopedia. Retrieved 13:50, November 10, 2015, from https://en.wikipedia.org/w/index.php?title=The_Hoppers&oldid=687782274
Websites:
External links are provided for reference purposes. Christian Music Archive is not responsible for the content of external internet sites.