No albums list this artist in credits. You are able to edit albums and add credit info if you have created an account.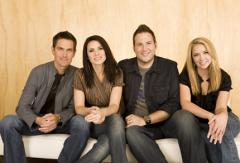 Avalon
Avalon was formed in 1995 by Grant Cunningham, A&R director at Sparrow Records. Cunningham was in search of a vocal group that could sing tight harmonies and carry God's message to the world. Cunningham publicized his intentions and received many demo tapes, but nothing fit his desires.
After letting the idea of Avalon rest a while, Cunningham attended an artist showcase in Nashville to listen to a singer. However, another artist, Michael Passons, caught his attention, and Passons was the first of the group's founding members. Soon after, former Truth vocalist and South Carolina native Janna Potter Long heard about Avalon's formation. Cunningham had heard her sing at a Truth concert and liked her because she was "such a good singer."
Rikk Kittleman and Tabitha Fair became part of the group, but each left after a short time. Fair was offered a solo record deal, and Kettleman left for other opportunities. With two member openings, Long contacted former Truth vocalist Jody McBrayer, who became a member of Avalon a few days later.
Nikki Hassman Anders was the fourth founding vocalist of Avalon. Hassman recorded two albums with Avalon, but left in May 1998 to pursue a solo career with Sony Records.
Cherie Paliotta Adams replaced Hassman after one of Avalon's co-managers listened to a country music demo tape recorded by Adams. Though country is not a genre Avalon performs in, executives chose Adams as they believed she would be a perfect fit. Adams recorded four albums with Avalon. Cherie departed the group to pursue a solo ministry geared toward single women, and in September 2002, she was replaced by Melissa Greene, Janna's other fellow former band-mate of the now disbanded group TRUTH.
In between projects, Jody McBrayer and Jana both released a solo album
On March 25, 2003, Avalon released a greatest hits record which featured two new singles that became #1 hits. It was the last album to include founding member Michael Passons: the Avalon member known as 'Father Avalon' left only months after the album's release (in summer 2003) to pursue a solo career, and was replaced by Janna's husband, Greg Long. In 2004, Avalon released the studio album The Creed featuring Greg Long as the lead singer.
During the summer of 2007, Jody McBrayer decided to depart the group due to a heart condition. But, before he left, he found time to record one last album with Avalon. On February 26, 2008, Avalon released their ninth album, Another Time, Another Place: Timeless Christian Classics.
Jeremi Richardson joined the group in late 2007 to replace Jody McBrayer. Jeremi, Melissa, and Janna had attended the same college, Lee University in Cleveland, Tennessee. He sang with the group, Voices of Liberty, in Orlando, Fla. Melissa and Janna found out about Jeremi through mutual acquaintances. He sent his music to them and immediately had a heart for the ministry of Avalon. Jeremi was a great fit for the group and had the previous experience. On November 11, 2007, Melissa Greene announced at a show in Spring Arbor, Michigan, that it was the first concert with Richardson officially being a member of the group.
On May 15, 2009, Melissa Greene announced her resignation from Avalon on her personal website upon accepting a position as Pastor of Music and Arts at Gracepointe Church in Nashville. Melissa will continue her solo career as well. On May 21, 2009, Avalon announced that Richardson's wife Amy would fill Greene's spot as the newest member of Avalon. Janna went on maternity leave from Avalon February 9, 2010 after giving birth to her daughter Eleanor Hovland.
Wikipedia contributors. Avalon (band). Wikipedia, The Free Encyclopedia. November 15, 2010, 02:41 UTC. Available at: http://en.wikipedia.org/w/index.php?title=Avalon_(band)&oldid=396830465. Accessed December 15, 2010.
Websites:
External links are provided for reference purposes. Christian Music Archive is not responsible for the content of external internet sites.