October 03, 2013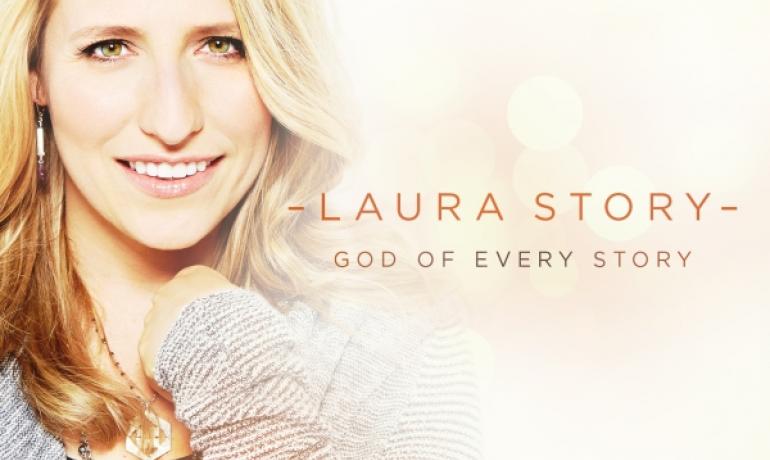 Nashville, Tenn. – GRAMMY® winning artist, speaker, songwriter, author and worship leader Laura Story "maintains a particular ability to insert just the right phrase at just the right place" (Jesus Freak Hideout) on her new album God Of Every Story, available this week. The follow up to her smash-hit album Blessings, which featured the RIAA Certified Gold, Dove Award and GRAMMY® Award winning title track, poignantly illustrates Laura's continuing powerful storytelling abilities and her unique transparency to share both the beautiful and tragic moments of life.
Such is the case on this album's lead single "I Can Just Be Me," an honest and personal track on being broken and finding God's redemptive power in helpless situations. The song has resonated deeply with her audience, quickly breaking into the Top 20 on the Billboard National Christian Audience chart and achieving over 70 radio station adds – reaching nearly three million people already. In addition to its climb on the AC charts, the song has already rocketed to No. 2 on the Soft AC/Inspo chart. The live music video for "I Can Just Be Me" can be viewed here.
Critics and fans alike are relating to the emotionally rich lyrics and honest confessions within God Of Every Story. Here's a sampling of the acclaim:
"God Of Every Story provides a springboard for Story to be respected and admired for her storytelling abilities as much as her worship leading gifts."
- Crosswalk.com
"The music is subtle, ethereal and earthy. God Of Every Story's deeper ministry will likely be to those in the desert place of life. Songs swirl around lyrics that are steeped in real life and honest confessions."
- Worship Leader
"God Of Every Story is a Spirit-filled and emotional listening experience. All eleven songs are catchy, worshipful and biblically focused. If you liked "Blessings," then you absolutely must have this album."
- NewReleaseTuesday.com
"God Of Every Story is storied with lots of wizened Scriptural wisdom and truth."
- Breathecast
"Story has an advantage. She writes songs of vertical worship, often scriptural, like so many, and she does it well… [Story] maintains a particular ability to insert just the right phrase at just the right place to make a song transcend the routine."
- Jesus Freak Hideout
"Laura has recorded her strongest album to date. With plenty of soon to be hits, worshipful melodies, as well as heartfelt personal ballads, you cannot go wrong with taking a look at Laura's new album."
- Christian Music Zine
Last weekend, Laura joined Steven Curtis Chapman and Jason Gray on Chapman's "The Glorious Unfolding Tour" presented by Show Hope. The 35-City fall tour kicked off in Shreveport, LA and performed to three sold out audiences. In Houston, a second show was added due to popular ticket sales. The tour features a mixture of brand new music from all three artists, as well as fan favorites in a night of stories, songs and worship. For more information on the tour, visit www.LauraStoryMusic.com/Tour.